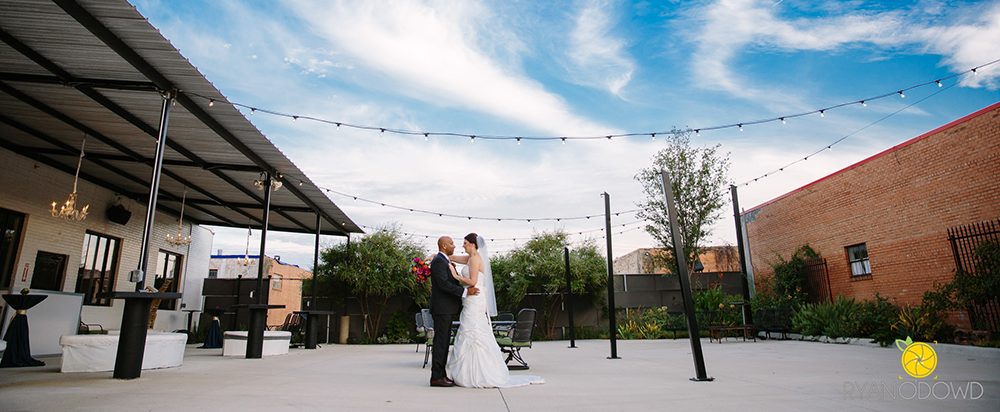 DFW Venue
Months and months of planning goes into your wedding day. You can pretty much count on everything to go as planned…except the weather. Weather seems to have a mind of its own, especially in Dallas. It can go from sunny and warm to windy and stormy within a matter of minutes. In contrast, a chilly day in January could turn out to be sunny and mild. Modern DFW Venue The Empire Room knows how to prepare for any kind of curveballs that Dallas weather could throw at you!
The Empire Room offers both indoor and outdoor spaces for your ceremony or reception, so if an unexpected rain shower decides to dampen your day, we can handle it! We're prepared to make an outdoor ceremony look just as beautiful inside. Our modern DFW venue is very versatile and we can maintain that natural, outdoor feel inside. The beautiful exposed brick on our walls adds a somewhat rustic touch, and our dance floor feels just as roomy as our outdoor patio.
Knowing Dallas weather, the opposite may occur, too! You may have planned your day around a winter wonderland in February. But with Dallas's strange weather, you might have clear skies and temperatures in the sixties or seventies instead. If that's the case, we can move your celebration to the patio! We'd happily set up cocktail tables for your guests outside. In addition, our twinkly lights are always shining. So we'd happily transform your winter wonderland to a breezy outdoor celebration if necessary.
What this modern DFW venue wants to remind you is that, no matter what crazy weather Dallas may throw at you, we'll be prepared! We want your wedding day to be as stress-free as possible. Even if some unexpected weather changes come your way, we can help you have the most memorable day possible.