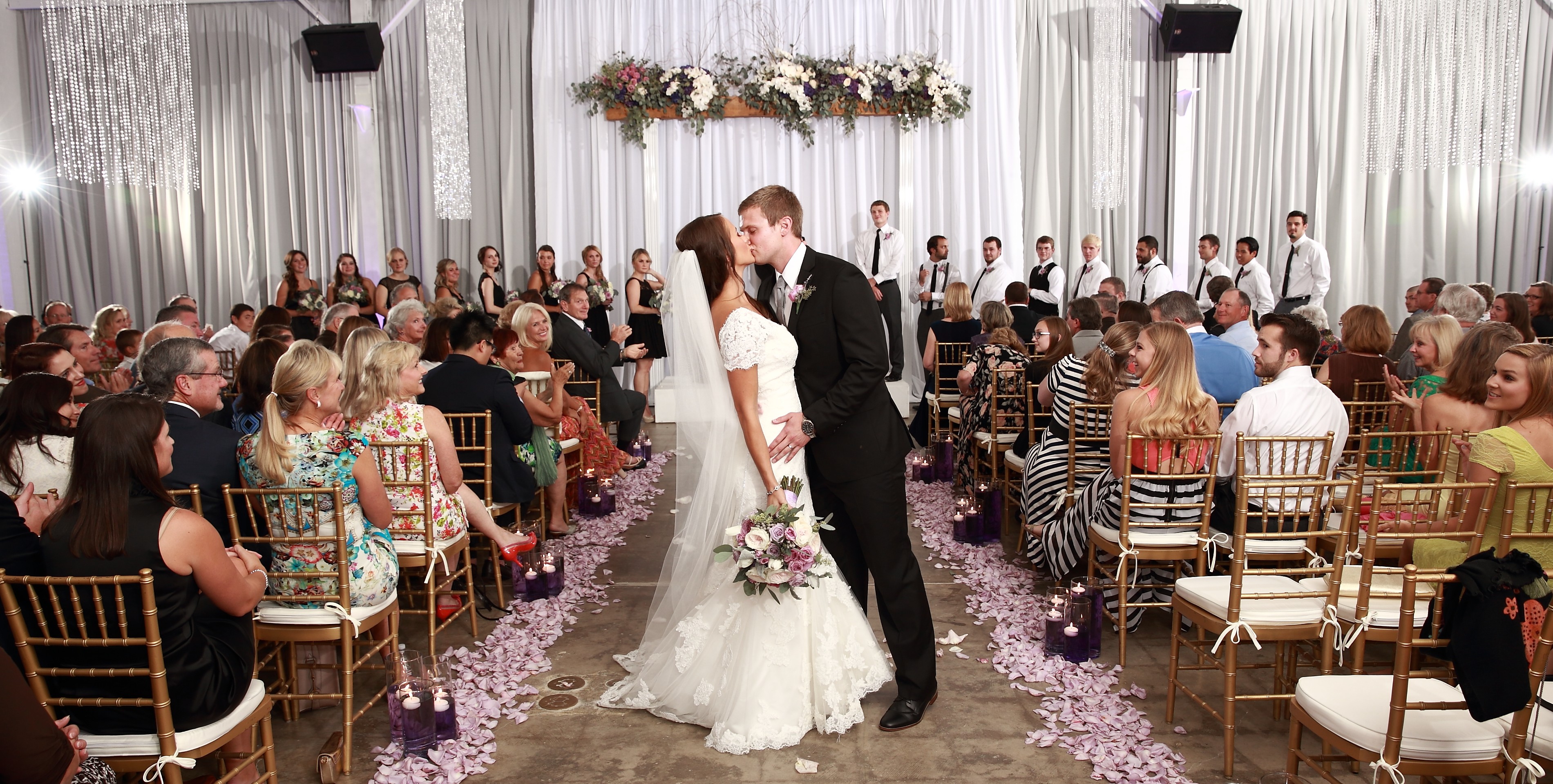 Take your wedding reception to new heights by hanging décor up above! From greenery garlands to statement light fixtures covered in vines, we love seeing how simple greenery can elevate (quite literally!) your wedding-day reception (or even ceremony) décor.
And better yet: it's actually an easy way to save. The thing about greenery is that is comes in bundles, which means you're not paying per stem (like you would be doing with those pretty peonies you've been dreaming about). Plus, you'll find that greenery (whether its eucalyptus, vines, or big ole' leaves) goes a long way in covering space—and thus, lowering your budget.
Beyond the price tag, we're obsessed with this greenery wedding trend because it allows you to bring the outdoors inside, even if you're marrying somewhere without a window in sight.
In order to create an indoor-outdoor feel, simply hang pretty garlands, delicate vines, or leafy branches from the ceiling of your space. You can do so with clear wire—just ask your venue coordinator about what you're allowed to hang from and how much weight it can hold—or attach cut branches to existing fixtures, like the rafters in your barn or the crystal chandeliers in your ballroom.
And funny enough, even though you're adding bundles of stuff to the room, you may find that the space feels larger. Why? It's simple: The statement installation draws everyone's attention up above. (It is something pretty to look at after all!)
And as if that's not enough to get you going, we went ahead and did the work for you—keep scrolling to see examples of how you can make your greenery-inspired décor a cut above the rest.
A head table feels even more intimate, thanks to the greenery and hanging tea lights up above.
Now this is the cool way to hang greenery! On-trend wreaths are filled with flowing ferns, tulips, and calla lilies.
Greenery garlands are simple but impactful, especially with the juxtaposition between the green up above and the copper chairs below. (We also love the garlands on the table, too!)
Make sure your guests are having a great time at dinner under the statement lights. Seriously, forget the stars when you have these!
Again, hanging tea lights are mixed with a greenery installation. The greenhouse venue really lets the hanging greens stand out, don't ya think?!
For a new take on suspended greenery, incorporate it with your escort cards. Consider mini escort cards pinned to wreaths that hang (with invisible wire!) from the top of a white tent.
Make that first dance photo op all the more special with a circle of greenery front-and-center.
Wispy olive branches are the perfect match for a low-key reception setup.
Make your chandelier the center of attention by hanging string lights from it. It looks perfect in a tent—and just wait until it gets dark outside!
When you have high ceilings, you have plenty of room to hang a wooden trellis installation, that's decorated with a variety of pretty, textured greens.
Hang a greenery installation at the entrance to your beautiful, rustic venue—plus, look how it doubles are the ceremony backdrop.