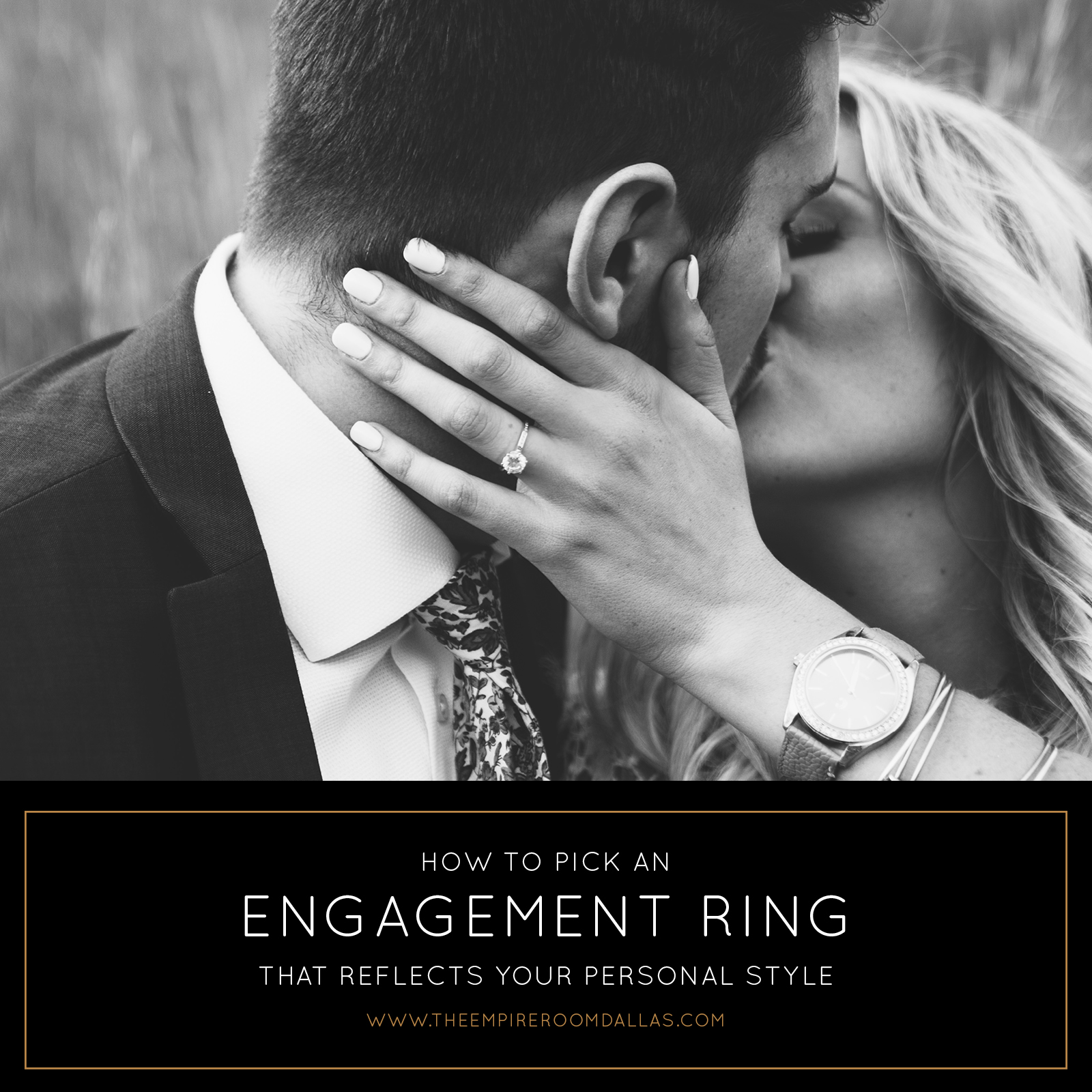 The vote is in …on our favorite engagement ring styles! With the holidays right around the corner, engagement season is upon us. Statistically, this time of year (from Thanksgiving to Valentine's Day) is the most popular time to propose. If you anticipate saying "Yes!" within the next few months, it might be time to start thinking about your engagement ring.
Many modern couples shop for rings together, but there's certainly nothing wrong with leaving the ring selection up to him; the choice is completely personal. If you are shopping together, get familiar with the "Four Cs" of diamonds: cut, carat, color, and clarity. These are the four characteristics by which a stone is judged to determine the ultimate look of the ring. Combined, these qualities can create a classic, modern, or unique look for your engagement ring—it's all about personal taste!
Today we're helping you scope out some bling according to your personal style. Take a look:
Classic: if you're a traditional bride seeking a classic look, keep things simple with a round center stone and understated band. Personalize it with a halo for a bit more bling, but don't go overboard—simplicity is timeless. Oval rings are the latest trend for brides seeking to update a classic look with a subtle twist, and we are loving them!
Modern: if you learn toward a contemporary aesthetic, look for clean lines and square cuts to express your style. Complement your stone with a sleek platinum band, keeping the overall look minimalistic. For a distinctive look, try a ring with a horizontal rectangular stone or accent your center stone with dainty emerald gems set on either side. Swoon!
Vintage-inspired: countless ring styles have inspired us throughout the decades! If you're drawn to vintage style, look for an engagement ring with an intricate band and unique setting. Take a more distinctive route with a sapphire center stone, the perfect touch from a bygone era.
Earthy chic: if you're a free-spirited bride seeking an earthy aesthetic, look for nontraditional elements like rose gold or a custom-fit ring guard or wrap. You might also consider a conflict-free engagement ring that you can customize yourself.
Completely custom: on that note, if none of the above styles appeal to you… that's totally okay! Your engagement ring should reflect your personality. You can always customize your ring to express your own aesthetic.
Which of these styles speaks to you? We've seen so many stunning gems at our Dallas modern wedding venue! From modern to vintage and everything in between, there's one common thread we love above all else: your ring is a symbol of your unique love story. As fun as it is to dream about gorgeous cuts and settings, all that matters at the end of the day is that you're engaged to the love of your life. And that is worth far more than any diamond!
Best of luck to all the couples hoping to get engaged this season! We hope you'll consider celebrating your love story here at our Dallas modern wedding venue, The Empire Room.