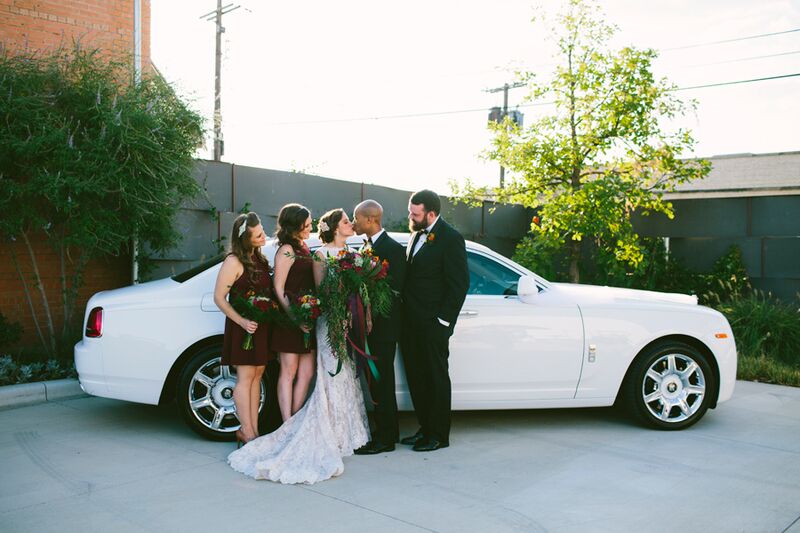 You've got a party bus/limo/driver for the wedding party and a vintage Rolls Royce ready for the getaway, but have you thought about how your guests will get to and from your celebration?
Some venues are easy, especially in big cities with taxis or public transportation—but if your venue is remote or you don't have space for everyone to park, it may be up to you to make sure your guests make it. Concerned about the costs and logistics? Fear not! Our experts are here to help you plan out transportation for your wedding guests.
When is it Necessary to Provide Transportation?
Don't write off guest transportation before you've really considered it, especially if you're having a destination wedding. Asking your guests to pony up $20 (or more!) to get to your reception is a lot when you consider the expense of travel and hotel rooms that they've already paid for.
If your wedding is in an area where taxis or buses simply aren't available, or aren't reliable, it can also cause extra headaches and may result in a bunch of late guests. And don't forget to think about parking!
If it's not available at your venue or is expensive, that's something else your guests will have to deal with. In any of these instances, it's worthwhile to look into a shuttle bus service. It will make sure your guests arrive on time, won't require anyone to park, and will also help get everyone home safe.
A lot of car services like Uber are super helpful when it comes to getting your guests where they need to go, and allows you to pick up all, or part of the transportation costs.
How Should We Handle the Logistics?
If you have a room block at one or two hotels, make those the pick-up and drop-off points for your shuttles. Once you've determined the schedule with your shuttle company, pass it on to your guests!
Make a page on your wedding website letting guests know when shuttles will depart, and ask the concierge at the hotel to post a sign in the lobby, as well. Handing out welcome bags? Add the schedule to your welcome note. And don't forget to tell guests when shuttles will be available to depart.
If you have guests who are older or who have hired babysitters for the evening, they'll appreciate knowing when they'll be able to head home if needed. For guests who choose to stay at other hotels, let them know if they can drive on their own, or if they should park at the shuttle pick-up areas to join the rest of your guests for the ride.
What if We Can't Afford a Shuttle?
If it simply isn't in your budget, it's still important to consider how your guests will get to and from your wedding. Provide driving directions and estimated drive times, as well as information about local taxi services and ride-share companies.
Let them know if parking is available at the venue or nearby, and whether they will need to pay for valet service (which is something you may want to cover, as it will cost less than the shuttles would). Is space limited?
Encourage car-pooling among friends or family members. To make sure your guests all get home safe, consider putting a sign with local taxi company numbers on the bar and near the door so a guest who has had one too many glasses of champagne can get a ride.