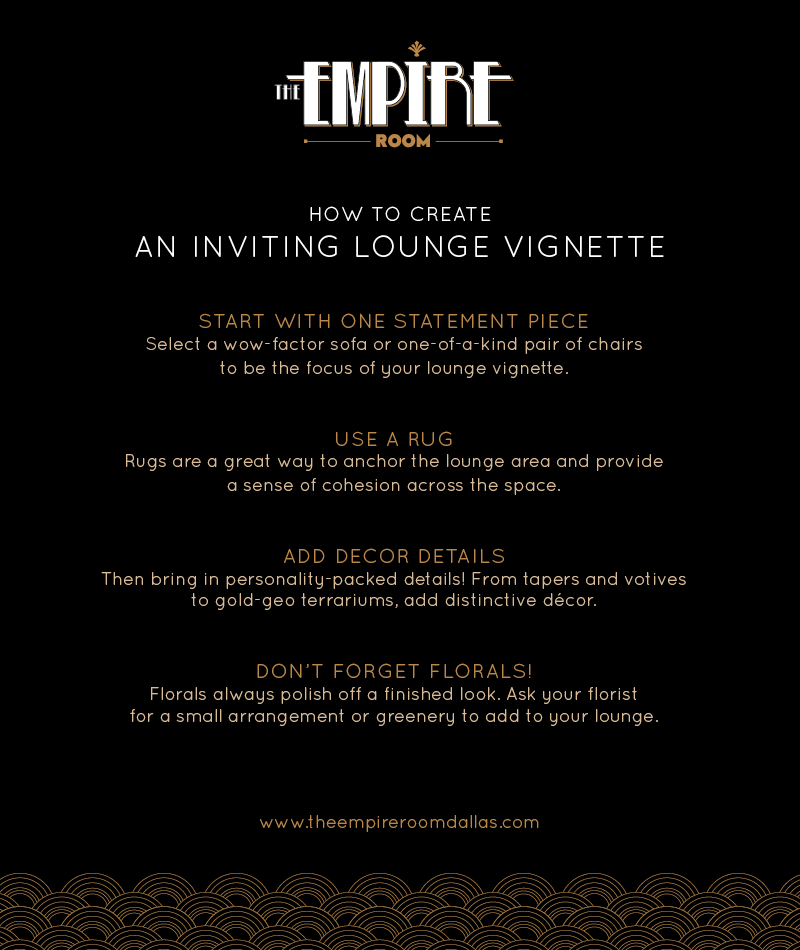 One of our favorite trends in the wedding industry right now is the lounge vignette. A perfect place for guests to mix and mingle, plus a personalized expression of your wedding theme—what's not to adore? Transform one of the best wedding venues Dallas has to offer into a customized setting with unique rental furniture groupings. Create an intimate seating area for your guests, and bring your personality to life with a lounge area beyond compare:
Start with one statement piece: We recommend seeking a jaw-dropping sofa or one-of-a-kind pair of oversized chairs as your "wow factor". From there, you can add complementary décor to polish off a cohesive look in any style.
Use a rug: rugs are another trend this wedding season, and are a great way to anchor your seating vignette! Placing a rug underneath your lounge ties all the pieces together in a defined area, and gives the space a sense of cohesion.
Add décor details: Now that you've provided seating and defined the space, add décor details that complete your aesthetic. From candlesticks or votives to patterned pillows, this is an ideal area to add small touches of personality. Need help? Ask your rental company! These experts have an eye for design and can pull together a unique look that perfectly suits your style.
Don't forget florals! As always, florals make everything look more polished! Don't forget to ask your florist for a small arrangement for your lounge area. Consider a few buds in tiny vases, blooms coming out of a gold geo terrarium, or even some greenery across a coffee table. This will be a gorgeous way to finish off a sophisticated lounge vignette.
Versatility is a characteristic that makes The Empire Room one of the best wedding venues Dallas has to offer. Our white walls are a black canvas, ready to host any creative vision. Make a lounge vignette part of your big day and bring your distinct wedding personality to life. We'd be happy to assist you! Just get in touch to start planning your big day.