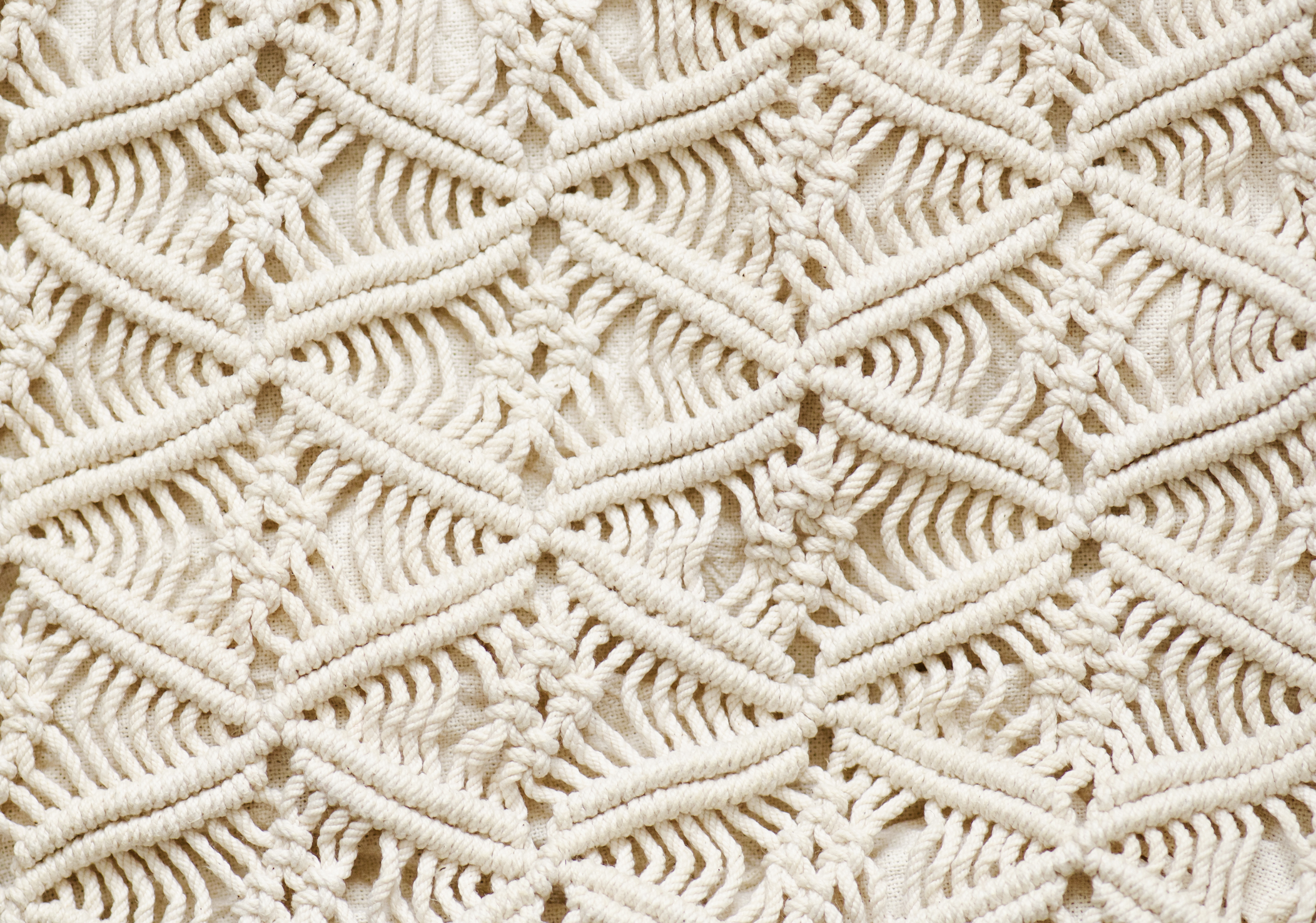 For those of who don't know, macramé is a form of textile produced using "knotting," as opposed to methods like knitting or weaving. (How fitting for your wedding ceremony, right?!) This art technique dates back to 13th-century Arabic artists (yes, really!), but it's really known for its popularity in the '70s; think back to the days of lava lamps and shag carpet. And in 2017, we're more than happy to report, this groovy trend is officially back in style—wedding style, that is.
After consulting wedding Pinterest boards, real-wedding features, and our favorite Instagram accounts, we've seen macramé (brilliantly!) used in ceremony altars, hanging chandeliers, escort-card displays, and table settings. And that's not to mention the macramé imitations we've seen created in cake icing.
Basically, macramé is the material of the moment. So how do you re-create this trend for your wedding day? First, start by envisioning your wedding style. If it's tropical, casual, or boho, this trend will most likely coordinate well with your other design elements.
If it's black tie or glam, probably not so much.
Next, think about where you want to display this look—whether it's behind you as you exchange vows or front and center at your reception. And finally, consider adding a little something extra to your decided display! Macramé is typically seen in a neutral cream color, so it's easy to add pops of color in the form of palm leaves, bright florals, or even natural wood.
Put this trend front and center by designing your ceremony structure around it. This backdrop is particularly special thanks to the varying lengths of fabric. It's perfectly imperfect, don't ya think?!
Create a statement backdrop that your guests can snap photos in front of! A macramé folding screen does the trick when accented with palm fronds and tropical flowers.
A couple of fun hanging fixtures basically scream for a cool dining setup below. We're envisioning a low table, colorful pillow cushions, and loads and loads of candlelight.
Embrace ivy-lined walls by hanging potted plants from macramé. We love that you can see the pink and orange flowers—and mini terra-cotta pots—peeking out from beneath the holes.
Have you ever considered a Woodstock themed wedding? Yep, that's right. We're obsessed with a textured cake, plus you can arrange for macramé hanging off its bottom tier!
Embrace macramé's natural beauty by displaying an intricate work. Think a pretty display, you can also top it all off with a forest backdrop or bundle of roses in the top left corner.
Having a Cancun wedding? Surprise your guests with their table assignments hanging from cream-colored macramé, which is decorated with peach roses and deep-burgundy astilbes.