Wedding Venue Downtown Dallas | The Empire Room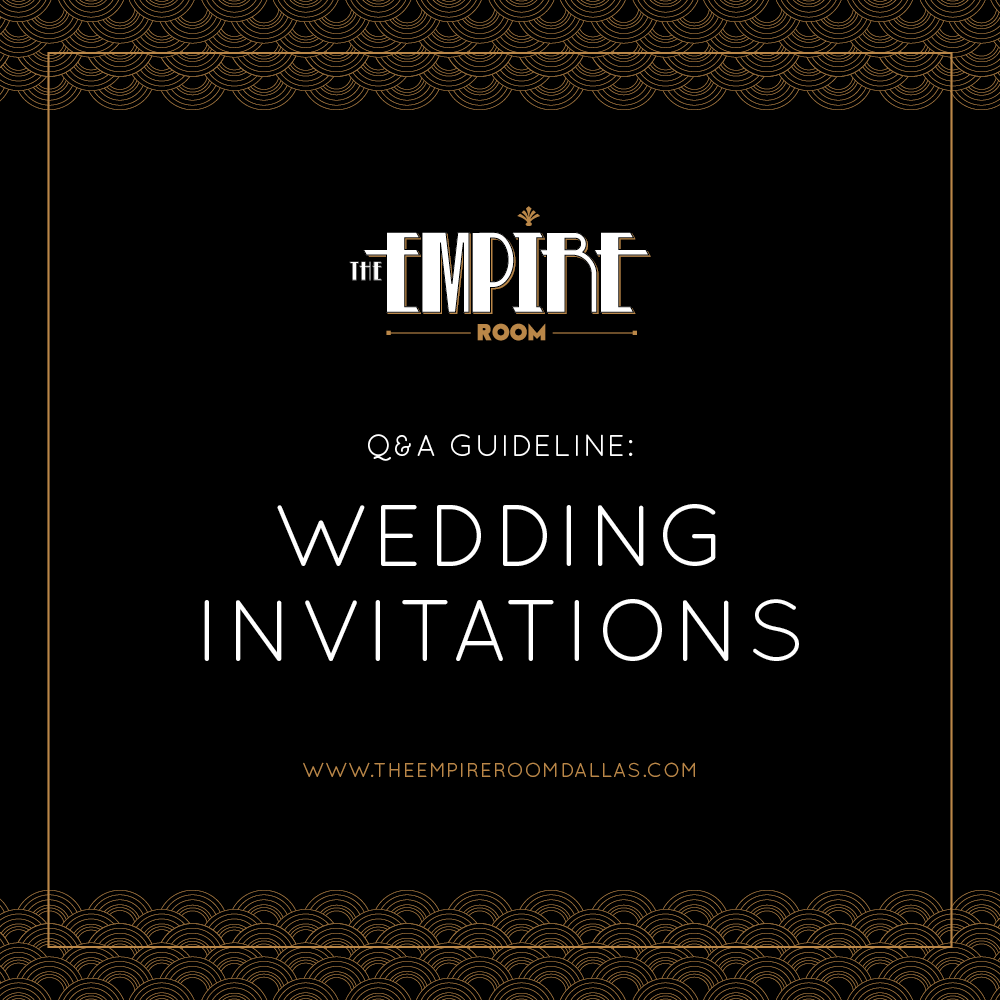 Planning a gorgeous affair at the top wedding venue downtown Dallas has to offer? We can't wait to see you here at The Empire Room! But first, you'll need to give your guests all the info. Time to send out your invitations! Creating, assembling, and mailing is no easy feat… but it is so exciting to see your official wedding date in print. Luckily, we've got an invitation Q&A guideline for you right here. Check out these Q&As to keep your invites on track:
When do I send invitations? Traditionally, wedding invitations should be sent 6–8 weeks prior to the big day. Aim for 8 weeks if your wedding is a destination or out-of-town trip for most guests; this will give plenty of time for them to arrange accommodations. If you're staying local to host your wedding at the top wedding venue downtown Dallas has to offer, you have more leeway to send invitations out closer to the 6-week mark. Save the Dates are typically sent about 6–8 months before the wedding.
What is included in an invitation suite? A full invitation suite can have a lot of moving parts. As a modern couple, it's up to you to decide which elements you want to include. Have fun with it! Maybe you send out a Save the Date magnet, or mix up the wording on your reply card for a more casual and personalized feel. Whichever elements you choose, make them unique to you!

Save the Date: a card or postcard informing guests of your chosen wedding date. This serves to let guests mark their calendars in advance. You should include your names, wedding date, and general location (no need to get specific with a venue just yet; the city or general area is plenty). The Save the Date does not have to match the rest of your wedding invitation suite. Couples often use an engagement photo for this element.
Main invitation and envelope: the main invitation holds all the big information: your names, ceremony time and location, and any other must-have details. The personalization possibilities are endless; these days, you can stray as far as you want from traditional formal invites. Make it fun and personalized with custom designs and clever wording! The main outer envelope will hold all these other elements together, and is typically addressed formally (i.e., Mr. and Mrs. Stephen Johnson).
Envelope liner: an optional suite element, the liner is a printed slip of paper tucked into the main envelope for a pop of color when your guest opens the envelope flap. You might consider a corresponding pattern, elegant monogram, or custom venue sketch for this piece.
Reply card and envelope: you'll definitely want to include a reply card in your suite; this is how guests will let you know whether or not they can attend! Ask guests to mark a box with their attendance. You can use formal wording (accepts with pleasure or declines with regrets), or something more fun (heck yeah! wouldn't miss it for the world or will be partying in spirit). You should pre-stamp the reply envelopes… we know it sounds like a hassle, but it will definitely help you in the long run. Believe it or not, that extra step can make or break a guest's willingness to rsvp!
Details card: a modern addition to the invitation suite, a details card lists all the "extras" you might not want to include on the main invitation. They are not mandatory, but can be helpful. Ceremony sketches and custom-drawn maps are popular elements of a details card, but you can include anything you like.
Belly band: another optional element, belly bands are what holds the whole suite together inside the envelope. They are often a thin strip of paper which wraps around the fully assembled invitation suite. Popular alternatives include ribbons sealed with wax or twine tied in a bow around the suite.
Should I list my registry on my invitation? Traditional etiquette says no way! While it might sound convenient, listing your registry directly on the invitation can be considered impolite. Instead, just include your wedding website on a details card, or discreetly listed on the back of the main invite. Guests can navigate to your registry from there.
With these guidelines in mind, you're ready to go. Bringing together all the details for a perfect invitation suite can be a bit time-consuming… but so worth it. The paper goods from your wedding day are a detail you will treasure from years to come. Let them make a statement about your personality, and have some fun with it. Guests will love this first impression of your unforgettable occasion!
Wedding Venue Downtown Dallas | The Empire Room